The No-Nonsense, FREE Guide to Pricing Managed and Co-Managed IT Services in South Africa.
Whether you're outsourcing your business IT for the first time or if you already have a Managed Service Provider (MSP), comparing Managed and Co-Managed IT Service rates can be tricky.
This no-fuss guide shows you how to accurately compare services and pricing of fully or partially outsourced IT services.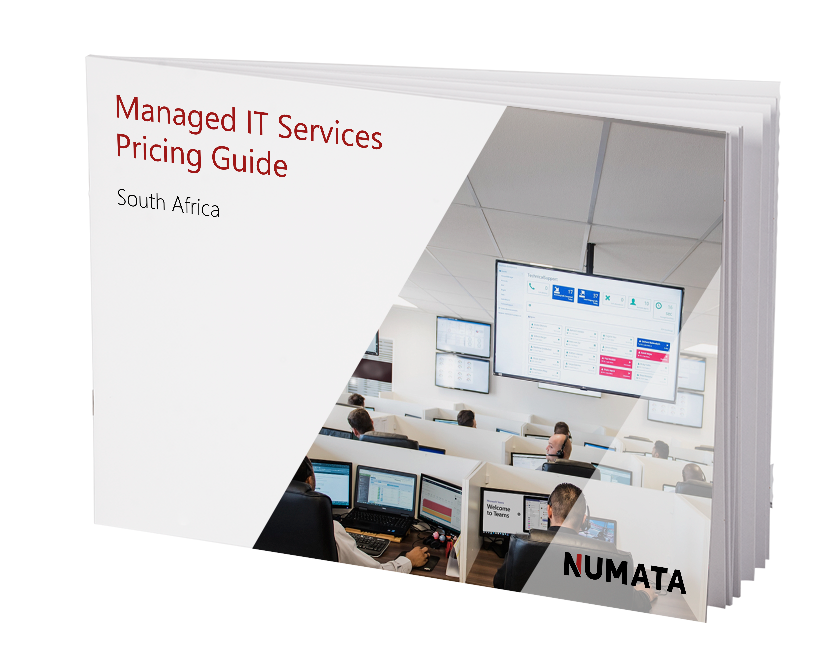 Why You Need the Managed IT Services Pricing Guide for South Africa:
Learn the difference between Fully-Managed and Co-Managed IT Services
Determine the best Managed IT fit for your business
Understand the factors that affect pricing
Compare service inclusions across the pricing spectrum (low-, middle- and high-end)
Tips on what to check when choosing a provider
Make the most of your IT investment and see your Rands go further.
Numata has enabled our business and allowed us to grow, and are always quick to respond to problems. They go way beyond their remit and a friendly bunch as well.
Numata is definitely a spectacular IT group, satisfying our IT needs whenever we encounter problems and they prevent future problems. I enjoy working with everyone in the support office and always leave positive that my issue will be resolved. The feedback is always superb and efficient. Overall Numata serves an excellent service within our company.
Numata goes out of their way to ensure the client receives the best service, even when it means they need to make changes on their side which only benefit the client. Numata has helped us with large projects which don't fall under their scope, but this is how far they are willing to go for their clients.